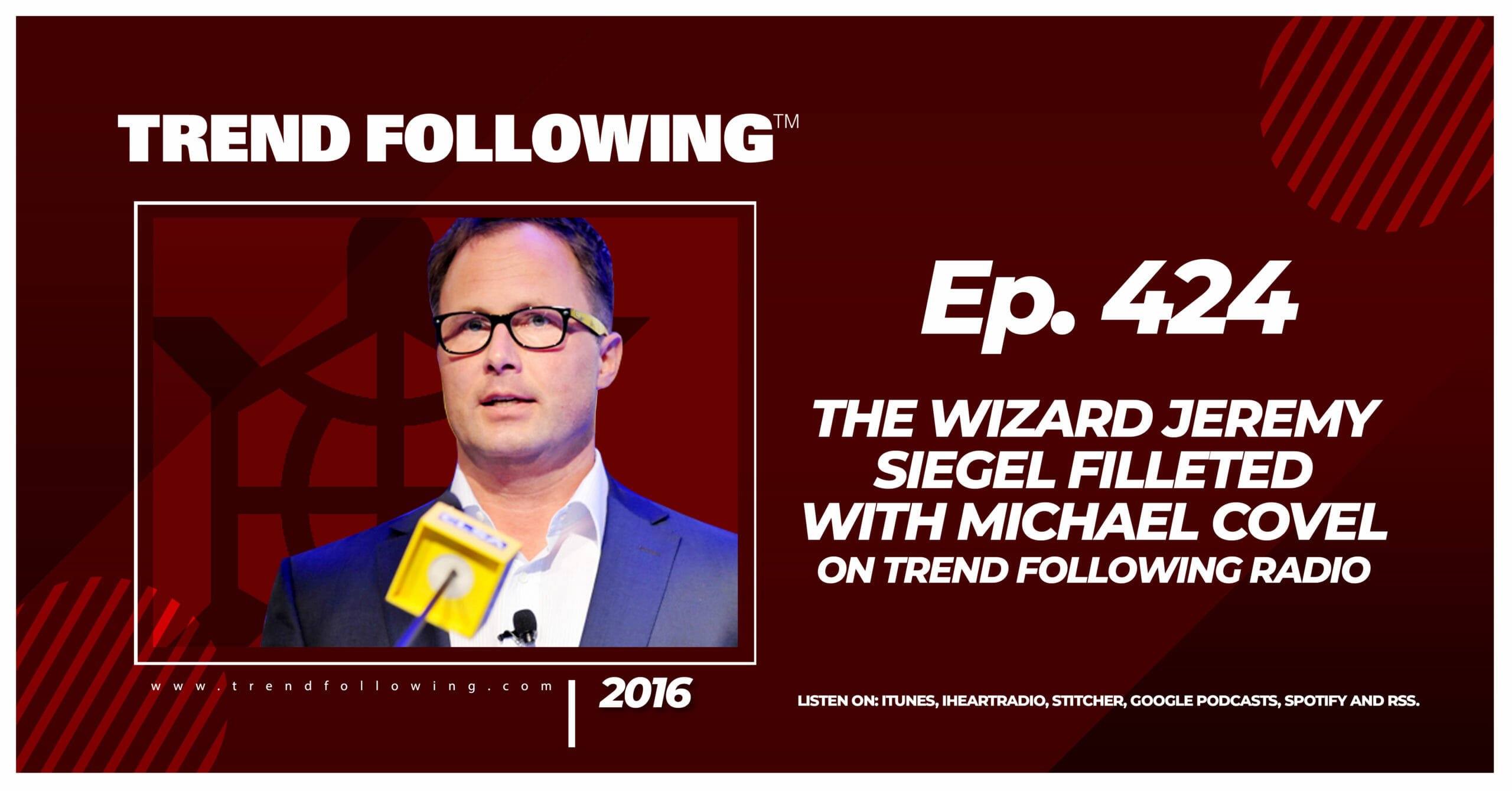 Subscribe to Trend Following Radio on iTunes
Today on Trend Following Radio Michael Covel profiles Jeremy Siegel. Jeremy describes himself as "The Wizard of Wharton." His website claims that he is credited with contributing and expanding the great bull market of the last two decades. Jeremy is also bestselling author of "Stocks for the Long Run."
Michael moves right into playing a few clips from appearances Jeremy has made on CNBC. The first clip has Jeremy outlining his predictions in early November 2015: The Dow will surpass 20,000, oil can't go much lower, and the dollar can't go much higher. His predictions are perfect examples of predictions without any substance. They have no timelines, or data to backup why he feels the way he does.
Excerpt #2 was filmed around December 13th. The Dow at that time was at 17,300. The S&P was at 2020. Jeremy moves right into more predictions and generalizations. He doesn't say "buy at this time" and "sell at this time." Jeremy proceeds to use words like "tremor" and "relief rally." It is hard to have wrong predictions and forecasts when you use words that have generalized meaning.
Excerpt #3 is from February 8th, 2016. Jeremy had to back peddle because his November and December forecasts had not come to fruition. He admits to being too bullish…sort of. He blames his wrong predictions on the market not doing what the market was suppose to do. Michael weaves in his commentary throughout the clips. The podcast ends with one of Michael's favorite classic songs from the 1920's.
In this episode of Trend Following Radio:
Predictions
CNBC Analysts
What is a bull and bear market?
"Jeremy Siegel is one of the great ones. [His article at the market top was] one of the most stark and prescient calls I have ever seen." – Jim Cramer
Mentions & Resources:
Listen to this episode:
Get the foundation to making money in up, down and *surprise markets on the Trend Following mailing list.