Investments • Risk • Economics • Psychology • Human behavior • Entrepreneurship • Innovation
"Bringing brutally honest insight, perspective and wit together from the brightest and most accomplished minds within markets and beyond."
Michael Covel is the voice behind Trend Following™ Radio, as well as the bestselling author of 5 books. His podcast is the underground alternative hit that has been as high as #2 on iTunes investing channel reaching 188 countries & territories with 3M+ listens. Listen for free: iTunes, Android and Stitcher.
Partial Past Guest List
"Your questions were excellent questions. I enjoyed this very much."
Vernon Smith, Nobel Memorial Prize in Economic Sciences
Beating Major Media Outlets: iTunes Rankings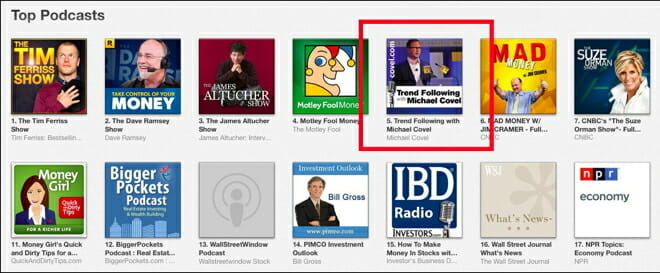 All Episodes
Note: Michael interviewed David Harding and Bill Miller for his film Broke.